MASOC – the Association of Mechanical Engineering and Metalworking Industries of Latvia is a voluntary non-governmental organization that was founded in 1994 as the industry-informative Advisory Centre to promote the development of the sector as well as to facilitate mutual cooperation and professional development of specialists in the sector.
At present the Association brings together around 160 leading engineering and metal processing companies, as well as companies of related industries. MASOC companies together employ around 12 000 employees, the aggregate turnover of companies in 2014 was more than EUR 1 billion.
The Association's mission is to represent the members' interests and to conduct joint activities and projects that contribute to the development of members' competitiveness and the development of the sector.
For more information about the Association's main activities can be read here. Members are always on the first place for the Association therefore all kinds of information flow takes place mainly between the association and its members.
Members of the Association
MASOC has brought together the leading companies in the industry, representing a variety of engineering and metalworking industry segments. In addition to manufacturing companies different service providers are among MASOC members as well - the testing and certification companies, suppliers of materials and equipment, educational and research institutions. The Association has brought together companies from all regions of Latvia. Members include both - companies with Latvian and foreign capital.
More information on MASOC members can be found in section "Database of Companies"
The following graph shows the dynamic of members' number of the Association since its establishment in 1994.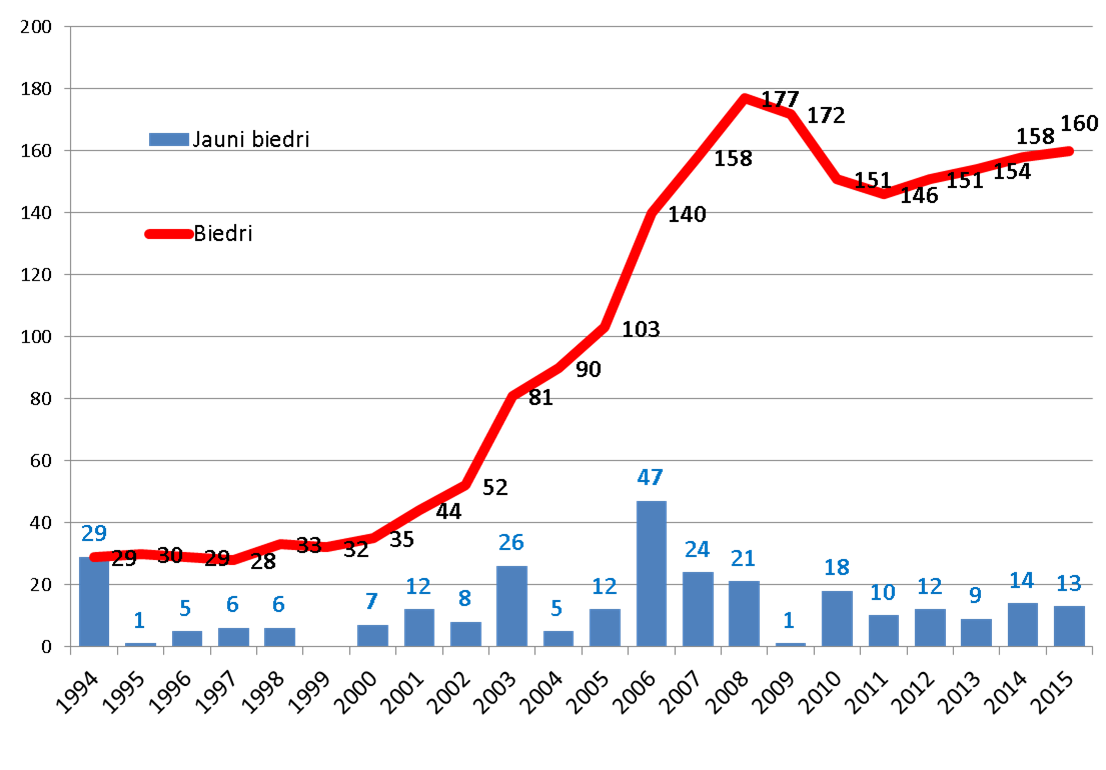 Memberships' benefits
Information
On development of the sector in Latvia and export markets.
On potential cooperation partners.
On export promotion activities - exhibitions, seminars, exchanges of experience, foreign trade missions in Latvia and abroad.
On financial fundraising opportunities from EU funds and other sources for the company's development and the training of specialists.
On opportunities to participate in the EU co-financed projects.
On cooperation proposals in Latvia and abroad.
Support
For training and qualifications of employees.
For participation in international exhibitions, trade missions and export promotion activities.
For search of cooperation partners.
For consultations on sector-related issues.
Free advertising and publicity
In the Industry Catalogue "Latvian Metal Industry" that is distributed worldwide through embassies and representations of Latvia, through embassies and missions of other countries in Latvia, as well as international exhibitions, trade missions and country visits. The Catalogue is updated and published every year.
On the homepage of the Association www.masoc.lv
Contacts
With other industry's companies, business partners, educational and research institutions
International contacts through MASOC partner network
The platform for exchange of experience and transfer of good practice